2018/2019 Newsletter No. 4




2018/2019 Newsletter No. 4
Dear Colleagues,

Warm greetings from the Executive Committee to you all! It has been almost a month since the commencement of the new school year. Hope that you are doing fine particularly at this moment of crisis and instability in Hong Kong.

I am sending you our latest Newsletter and hope you would enjoy reading it.
1. Membership Drive
Full membership (for serving principals)




The annual membership drive is now under way. For new principals who are not members yet, you are cordially invited to join us as new members. For members, we are grateful for your continuing support in the past and look forward to having you again as active, enthusiastic members.

Other membership (for Vice-principals, retired and former principals)




We value the participation of Vice-principals, retired principals and former principals very much in our Association. Please encourage and support your Vice-principals as well as former principals of your school to join our Association.

Subscription
Membership Category

Subscriptions

Remark

Full Member

(Serving principals)

$300

Annual

Associate Member

(Vice principals)

$200

Annual

Life Member

(Retired principals or principals serving more than 10 years before leaving the post)

$300

One-off

Affiliated Members

(Previous Full Members leaving the post before retiring age and serving less than 10 years)

$300

One-off
To subscribe, please fill out the relevant membership form, Full/Associate or Life/Affiliated, which can also be found on the Association website, and return it together with a cheque to Mr. Lo Shiu Ming Tommy, our Hon. Treasurer.


2. Education Colloquium 2019 Part I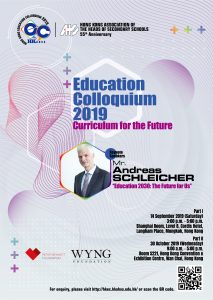 "Education Colloquium 2019: Curriculum for the Future" Part I held on 14 September at Cordis Hotel was well received. We had 170 participants and all were inspired by the speech of Mr. Andreas Schleicher, Director for Education and Skills, OECD.
Mr. Schleicher has generously allowed HKAHSS to upload the video recording of his talk onto the following website:
http://hkec.hkahss.edu.hk/wp-content/uploads/2019/09/Andreas-longver.mp4
You may also click HERE to read the summary of the gist of Mr. Schleicher's talk.


3. Education Colloquium 2019 Part 2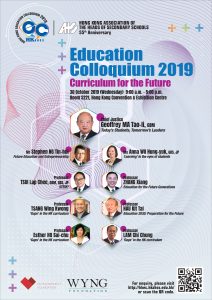 Education Colloquium 2019 Part 2 will be held on 30 October 2019 (Wednesday) at Room S221, Hong Kong Convention and Exhibition Centre. It will be a one-day programme from 9:00am to 5:00pm. We are very delightedly to have the Honourable Chief Justice Geoffrey Ma Tao-li, GBM as the Guest-of-Honour to officiate at the Colloquium. Many renowned local speakers have been invited to speak around the theme from different perspectives. The panel includes Ms. Anna Wu Hung-yuk, GBS, JP, Mr. Stephen Ng Tin-hoi, Professor Tsui Lap-chee, GBM, GBS, JP, Professor Zhang Xiang, Professor Hau Kit-tai, JP, Professor Tsang Wing-kwong, Professor Lam Chi-chung, Professor Esther Ho Sui-chu and Mr. Kevin Yeung Yun-hung, JP.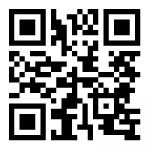 If you have not registered yet, please do so by scanning the QR code or visit our website (http://hkec.hkahss.edu.hk/) for more details and registration.
This is truly an exciting event that you should not miss! We look forward to seeing you there.


4. Self-Regulated Learning (SRL) Festival 2019 – Open Class
The Self-Regulated Learning (SRL) Festival is an annual flagship programme of the Association. Your teachers are warmly invited to open their SRL lessons between November 2019 and January 2020 for professional sharing through lesson observation and post-observation discussion.
The three-month Festival is truly a showcase of different learning and teaching strategies that promote SRL. We hope this is also a platform to develop learning communities among teachers, where they can gain insights and support from each other in their teaching path.
Please click HERE for more details about the arrangements and HERE for registration. We are grateful if your teachers can join us by opening their classrooms. On 14th October, a workshop will be held to review the theoretical connotations and post-lesson discussion for school principals and teachers. Please click HERE for details about the workshop.
Your support is necessary to make another successful SRL Festival! Looking forward to your favourable replies.


5. Annual General Meeting 2019
Our Annual General Meeting 2019 is scheduled to be held on 3rd December 2019 at YMCA, Salisbury Road, Tsim Sha Tsui. We have invited Professor Lap Fung Francis Lee (李立峰教授), Director of School of Journalism and Communication, the Chinese University of Hong Kong as our keynote speaker to enrich our understanding of today's young generation. His topic is 'The Leaderless New Generation' (無大台新世代). Kindly check the programme HERE for your enrollment.
According to our Articles of Association, the Executive Committee shall consist of 9 elected members. One of our Executive Committee members, Mr. Chau Hau Fung, who has served HKAHSS for many years, has just retired. We would like to send our gratitude to him for his dedication and contribution. Besides, on the day of the AGM, the three-year term office of Mr. Lin Chun Pong, our Vice Chairman, will expire. In regard of this, we need to nominate a total of 2 replacements. Please note that for any Executive Committee member whose term of office expires and is still a serving principal, he/she can be nominated for re-election.
The other serving Executive Committee members are:
Ms. Chan Shin Kwan (Hon. Secretary)
Mr. Cheng Kai Lam, Joe
Dr. Lau Yiu Hung (Vice Chairman)
Mr. Lo Shiu Ming, Tommy (Hon. Treasurer)
Ms. Pang Wai Lan, Helena (Hon. Secretary)
Mr. Tang Chun Keung, Teddy (Chairman)
Ms. Yau Kit Ying, Veronica
The Executive Committee can co-opt up to a maximum of 6 members for a period of one year. Co-opted members in 2018-2019 are:
Mr. Cheng Kwun Kit, Allan
Dr. Cheng Lai Lam, Felix
Mrs. Tam Cheung Kit Ying, Grace
Mr. Wan Ka Kit, Andy
Mr. Yip Wai Yee, Wharlee
We invite you to send in your nominations by filling out the nomination form enclosed and return it to us by 30th October 2019. Members are reminded to obtain the consent of the nominee(s) before returning the form. To avoid last-minute confusion, nomination from the floor during the AGM is discouraged.


6. Letter to the Chief Executive of Hong Kong
Understanding that the Chief Executive, Mrs. Carrie Lam, will release her next Policy Address soon, we took the opportunity to send her our ideas and hope she would take them into serious consideration. Our ideas are mainly about the 3Rs – Reconciliation, Review and Reform. Please click HERE to read our letter to the Chief Executive of Hong Kong.


I hope you enjoy reading this newsletter and I look forward to meeting you on our upcoming events.
Wish you every success this year!
Ms. Pang Wai Lan Helena
Honorary Secretary


Encl.-
1.
Full/Associate
Membership Registration Form